6 December 2018
Rosatom reports power start-up of the world's only floating nuclear power unit
Reactor unit No.1 of the world's only floating power unit (FPU), Akademik Lomonosov, was turned on at 10% of its capacity.
The FPU is now moored at the Atomflot site (a ROSATOM company) in Murmansk. Technicians completed all necessary preparatory operations and performed all required assessments before the procedure.
Rosatom CEO Alexey Likhachev said: "We successfully conduct FPU tests, in accordance with the schedule. There is no doubt that by next autumn we will tow Akademik Lomonosov to Pevek, just as planned. The floating nuclear power plant is an ideal solution to power remote areas. We consider this project as a new product, which is of interest not only for the grid-isolated Russian Arctic regions but also for a number of countries around the world. Thus, today we are demonstrating to potential partners reference technologies in the field of small nuclear power reactors. I am convinced that the growing demand for this product will cement Russia's leading position in the world's nuclear technology market".
Power start-up' is a series of functionality and safety tests conducted on Akademik Lomonosov's reactor, that are to be completed before connection to the grid. The first stage is implemented at 1-10% of the reactor's capacity and the final stage at 110%. During each stage, various operation modes are tested in order to ensure the FPU's safety.
All comprehensive tests and preparatory procedures are expected to be completed at the unique FPU Akademik Lomonosov by March 2019. The FPU will be towed to the port of Pevek (Russia's northernmost town) in the third quarter of 2019. There, it will operate as part of a floating nuclear power plant, replacing the outgoing capacities of the Bilibino NPP and the Chaunskaya CHPP.
The 'power start-up' is a significant milestone in ROSATOM's work on second-generation FPUs, i.e. Optimized Floating Power Units (OFPUs), which will be built in a series and be available for export. Rosatom's strategy, envisages supplying latest generation floating nuclear power plants to the most promising SMR markets across the globe. So far, significant interest in Rosatom's FNPP technology has come from the Middle East, North Africa and South-East Asia.
Akademik Lomonosov is the pilot project in a series of transportable small modular power units that are being produced for Rosenergoatom, ROSATOM's subsidiary in charge of operating Russia's nuclear power plants.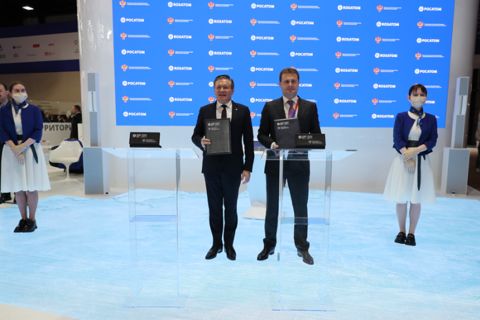 21 June 2022
On June 16, on the sidelines of the XXV St. Petersburg International Economic Forum, the Russian Ministry of Economic Development and Rosatom signed a cooperation agreement.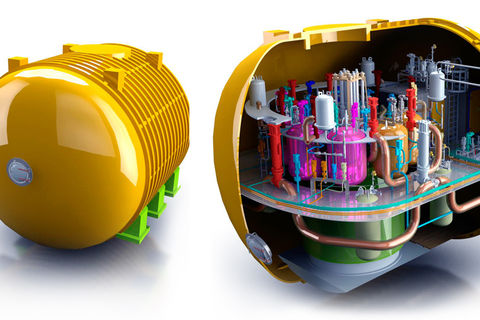 21 June 2022
On June 16, on the sidelines of the St. Petersburg Economic Forum, ROSATOM and the Republic of Sakha (Yakutia) signed an agreement on intentions and a procedure for organizing cooperation for promoting projects involving a small nuclear power plant based on the SHELF-M reactor.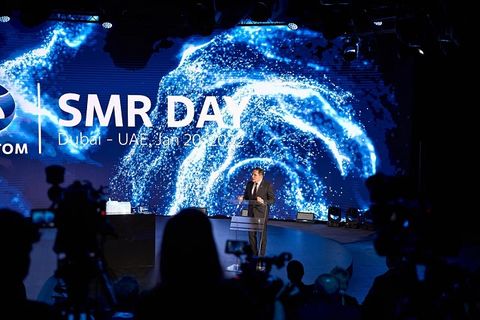 21 January 2022
20 January 2022, Dubai, UAE – ROSATOM, a global technological leader, has hosted Small Modular Reactors Day, the key event of its 'Breakthrough Technologies for a Sustainable Future' programme at EXPO 2020, which is currently taking place in Dubai.