19 May 2018
Floating nuclear power unit Akademik Lomonosov has arrived in Murmansk to be loaded with fuel
Akademik Lomonosov, the nuclear floating power unit (FPU), has been moored in Murmansk where it was towed from Saint Petersburg to be loaded with fuel.
Once loaded with fuel Lomonosov will be towed to the town of Pevek in Chukotka (Russian Far East) where, upon connection to the grid, it will become the world's so far only operational floating nuclear power plant and the northernmost nuclear installation in the world. It will replace a coal-fired power plant and an aging nuclear power plant Bilibino supplying over 50,000 people with electricity and reducing carbon footprint in the Arctic by tens of thousands of tonnes of CO2 emissions each year.
En route to Murmansk Lomonosov sailed over 4,000 km and travelled four seas: Baltic, Northern, Norwegian and Barents. In the waters off Norway's west coast Lomonosov was visited by Norwegian media and environmentalists
A welcome ceremony took place at the pier of Atomflot (Atomfleet, Rosatom's maritime subsidiary). The ceremony was attended by Director General of ROSATOM Alexey Likhachev, Chukotka region governor Roman Kopin, Murmansk region deputy governor Eugene Nikora, Deputy Director General of ROSATOM Aleхander Lokshin, Rosenergoatom Director General Andrey Petrov and Atomflot Director General Vyacheslav Ruksha.
Rosatom Director General Alexey Likhachev commented: "We have successfully towed the power unit, not yet loaded with nuclear fuel, to Murmansk and are going to fully launch here this unique project, which was only made possible thanks to cooperation of many companies. Akademic Lomonosov is an unparalleled piece of engineering by Russian scientists. It is a first-of-a-kind, reference project for mobile medium capacity range nuclear power units, a product we expect to be in growing demand in the coming years. For instance, we see great interest from all island nations where it is difficult, for various reasons, to set up a developed centralised power transmission infrastructure.
Despite criticism by anti-nuclear groups, the floating nuclear power plant project has been welcomed by many environmentalists and green groups as the only feasible way to reduce the Arctic's dependency on coal causing millions of tonnes of CO2 emissions and toxic pollution destroying the region's fragile ecosystems.
Ben Heard, the Executive Director of Bright New World Organization said: "It's fair to point out that the Arctic is a vulnerable ecosystem. But it's greatest vulnerability is to climate change. This power plant is going to replace an existing coal-fired power station and provide zero-carbon electricity generation for 50,000 people. There is literally no prospect of that energy coming from renewable sources in that location. Any organisation citing 'protection of the Arctic' to make blunt objections to this or any other nuclear project has the risks back-to-front and upside-down.
"The power plant has approval from the IAEA. There is decades of operational experience for reactors in ship-board conditions. With up-scaled production, the potential to cut greenhouse gas emissions with this application is staggering. Remote communities world-wide need affordable, reliable non-carbon energy and this is a way of getting it to them.
Nuclear fuel will be loaded into Akademik Lomonosov's reactors in Murmansk in the coming months. In 2019 nuclear FPU Akademik Lomonosov is expected be towed to the sea port of Pevek. Average towing speed is estimated at 3.5-4.5 knots. All necessary construction work s to create on-shore infrastructure are underway in Pevek. The pier, hydraulic engineering structures, and other buildings, crucial for the mooring of FPU and operation of a FNPP will be ready to use upon Akademik Lomonosov arrival.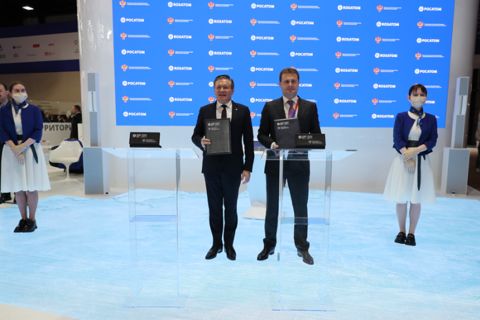 21 June 2022
On June 16, on the sidelines of the XXV St. Petersburg International Economic Forum, the Russian Ministry of Economic Development and Rosatom signed a cooperation agreement.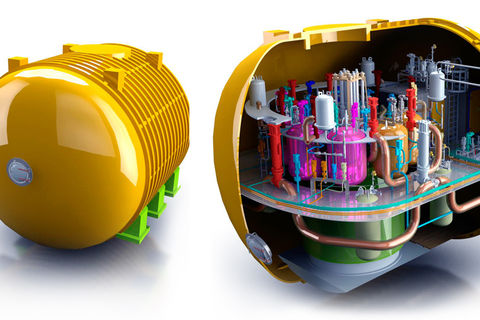 21 June 2022
On June 16, on the sidelines of the St. Petersburg Economic Forum, ROSATOM and the Republic of Sakha (Yakutia) signed an agreement on intentions and a procedure for organizing cooperation for promoting projects involving a small nuclear power plant based on the SHELF-M reactor.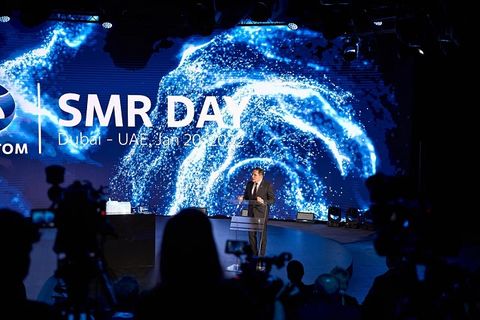 21 January 2022
20 January 2022, Dubai, UAE – ROSATOM, a global technological leader, has hosted Small Modular Reactors Day, the key event of its 'Breakthrough Technologies for a Sustainable Future' programme at EXPO 2020, which is currently taking place in Dubai.